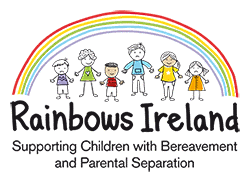 FORWARD STEPS FAMILY RESOURCE TULLOW CO. CARLOW
The current contact centre for Rainbows Ireland in Carlow
The Rainbows programme supports children and young people affected by loss, bereavement,separation or divorce.
Children who are in 1st/2nd class (Level 1), 3rd/4th class (Level 2), 5th/6th Class (Level 3) would have experienced Parental separation or Bereavement would benefit from this peer support programme.
To make enquiries and/or register your child and to ensure a place on the programme/s, please contact Molly Kirwan (Programme Co-ordinator on (059) 9152776 or pmforwardsteps@gmail.com.