Green schools Update
Dear Parents/Guardians,
Here at Scoil Mhuire Lourdes we are applying for our 5th Green schools Flag on Biodiversity 2021-2023 to add to the flags on Litter and Waste, Energy, Water and Transport which we as a school have already achieved. As we begin work on our Green schools Biodiversity Flag our Green schools Committee 2021-2022 has been formed. Congratulations to the following girls who will represent their classes on the Green schools Committee for the coming year.
1st Class Ms. O' Brien: Johanna George and Isabelle Doyle.
2nd Class Ms. Brooks: Hannah Baird and Hope Dowling.
2nd Class Ms. Kennedy: Eliza Kampusa and Ellie-May Hanks.
3rd Class Ms. Eagers: Tara Bracken and Lena Berezanska.
4th Class Ms. Madden: Chloe Kilduff and Lucy Rooney.
4th Class Mr. Kavanagh: Ciara O' Byrne and Evelyn Lalik.
5th Class Ms. Turtle: Aliyah Brennan and Emily Kelly.
6th Class Ms. Conway: Anete Strode and Shannon Canavan.
Our first job will be to plant daffodils in our school garden plot to harvest in time for Daffodil Day. The Committee will also have meetings throughout the school year to assist with tasks and activities related to learning about and raising awareness of Biodiversity in Scoil Mhuire Lourdes. Well done girls!! I look forward to working with you all.
Acting Greenschools Co-Ordinator,
Marie Turtle.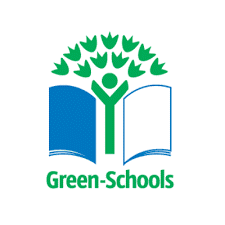 Click the image for more information about Green Schools