This gallery contains 11 photos.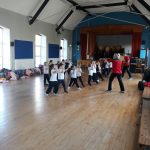 This gallery contains 8 photos.
There was great fun this afternoon at pirlo very first boxing class in association with Tullow Amateur Boxing Club. Take a look at some of the pics below!
Boxing and Kickboxing classes
Don't forget to put your money in an envelope with you name, class and 'boxing' on it. More classes to follow. See you there!