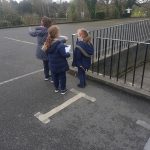 This gallery contains 4 photos.
First class busy measuring in the school yard this week.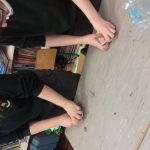 This gallery contains 7 photos.
5th class have been learning about 3D shapes this week.  We made a variety of shapes using lollipop sticks, matchsticks and straws. Here are some pictures of us enjoying some hands on Maths.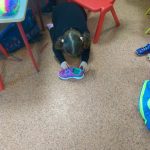 This gallery contains 6 photos.
This week in senior infants, the girls were learning about length. The girls have been estimating, measuring and recording the length of various objects in the classroom. They had great fun measuring length using cubes.